Tesla Model Y 2023: A Comprehensive Review
13 days ago
Electric vehicles (EVs) have taken the automotive world by storm, and Tesla, at the forefront of this revolution, has consistently delivered cutting-edge EVs that redefine the driving experience. The Tesla Model Y, a compact SUV that shares its underpinnings with the popular Model 3 sedan, has emerged as a frontrunner in the EV market, garnering praise for its sleek design, impressive range, and advanced technology.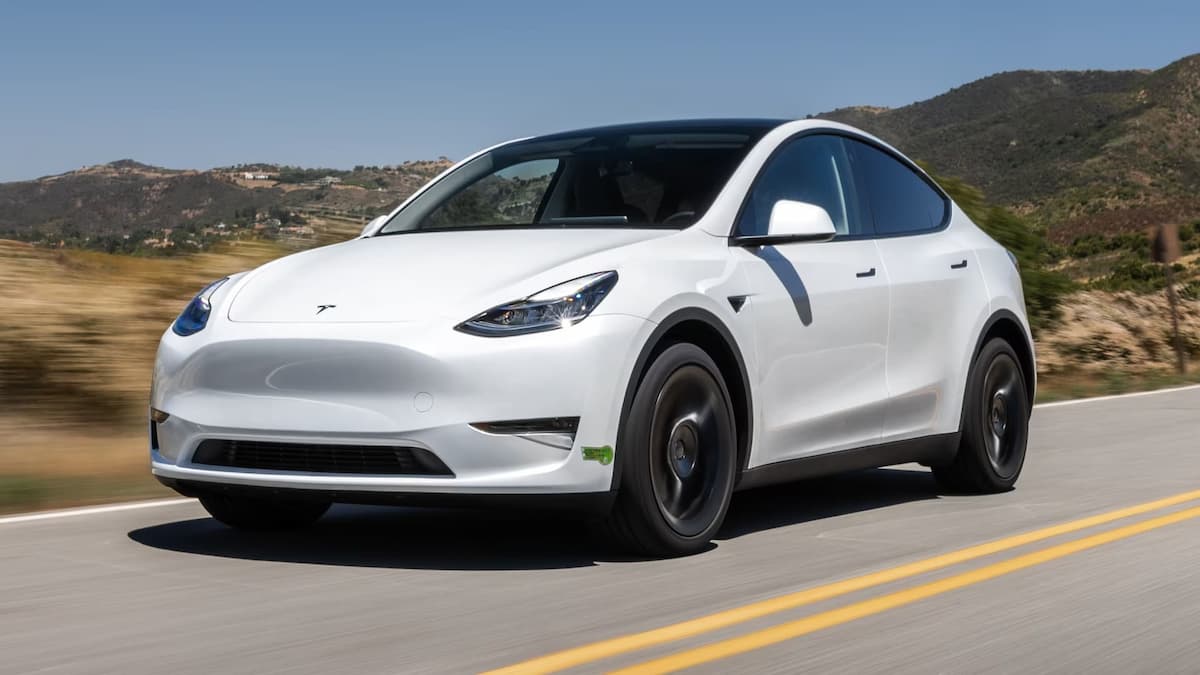 Power and Performance: A Thrilling Drive
The Tesla Model Y comes in three powertrain configurations: Long Range, Performance, and Standard Range Plus. The Long Range and Performance models boast dual-motor all-wheel drive, while the Standard Range Plus has a single-motor rear-wheel drive setup. The Long Range and Performance models offer exceptional acceleration, sprinting from 0 to 60 mph in a mere 4.8 and 3.5 seconds, respectively. The Standard Range Plus, while not as quick, still provides a satisfying acceleration of 5.8 seconds.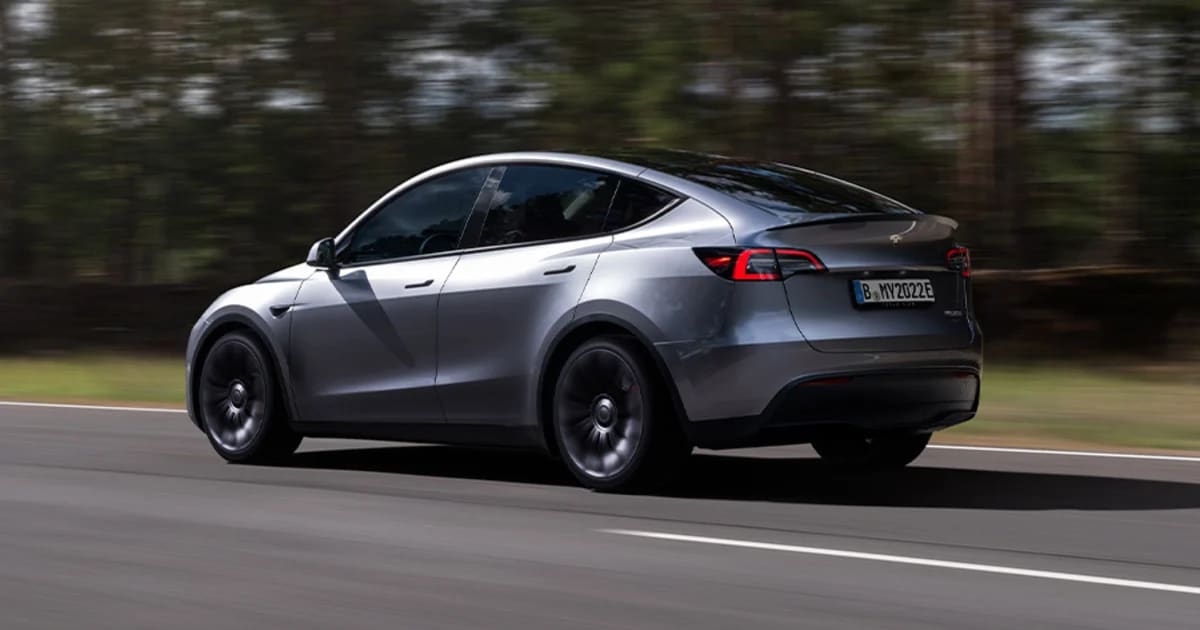 The Model Y's performance extends beyond acceleration. Handling is agile and responsive, making it a joy to maneuver through winding roads. The suspension is tuned for a comfortable ride, effectively absorbing bumps and road imperfections without compromising handling dynamics. Whether cruising on the highway or navigating city streets, the Model Y delivers a spirited and engaging driving experience.
Range and Charging: Long-Haul Capability
Range is a crucial factor for EV buyers, and the Tesla Model Y excels in this regard. The Long Range model boasts an EPA-estimated range of 330 miles, allowing for extended road trips without range anxiety. The Performance model has a slightly reduced range of 303 miles due to its more powerful powertrain. The Standard Range Plus, with its smaller battery pack, offers a range of 244 miles, still suitable for daily commutes and shorter trips.
Charging the Model Y is a breeze thanks to Tesla's extensive Supercharger network. These high-power charging stations can add up to 300 miles of range in just 30 minutes, making long-distance travel a convenient reality. Additionally, the Model Y can be charged at home using a standard Level 2 charger or even a standard 120V outlet.
Battery Life: Enduring Performance
Tesla batteries are renowned for their longevity, and the Model Y's battery is no exception. The automaker estimates that the Model Y's battery will retain up to 70% of its original capacity after 1 million miles, ensuring years of reliable performance. This extended battery life not only reduces the environmental impact of the vehicle but also protects the investment of EV owners.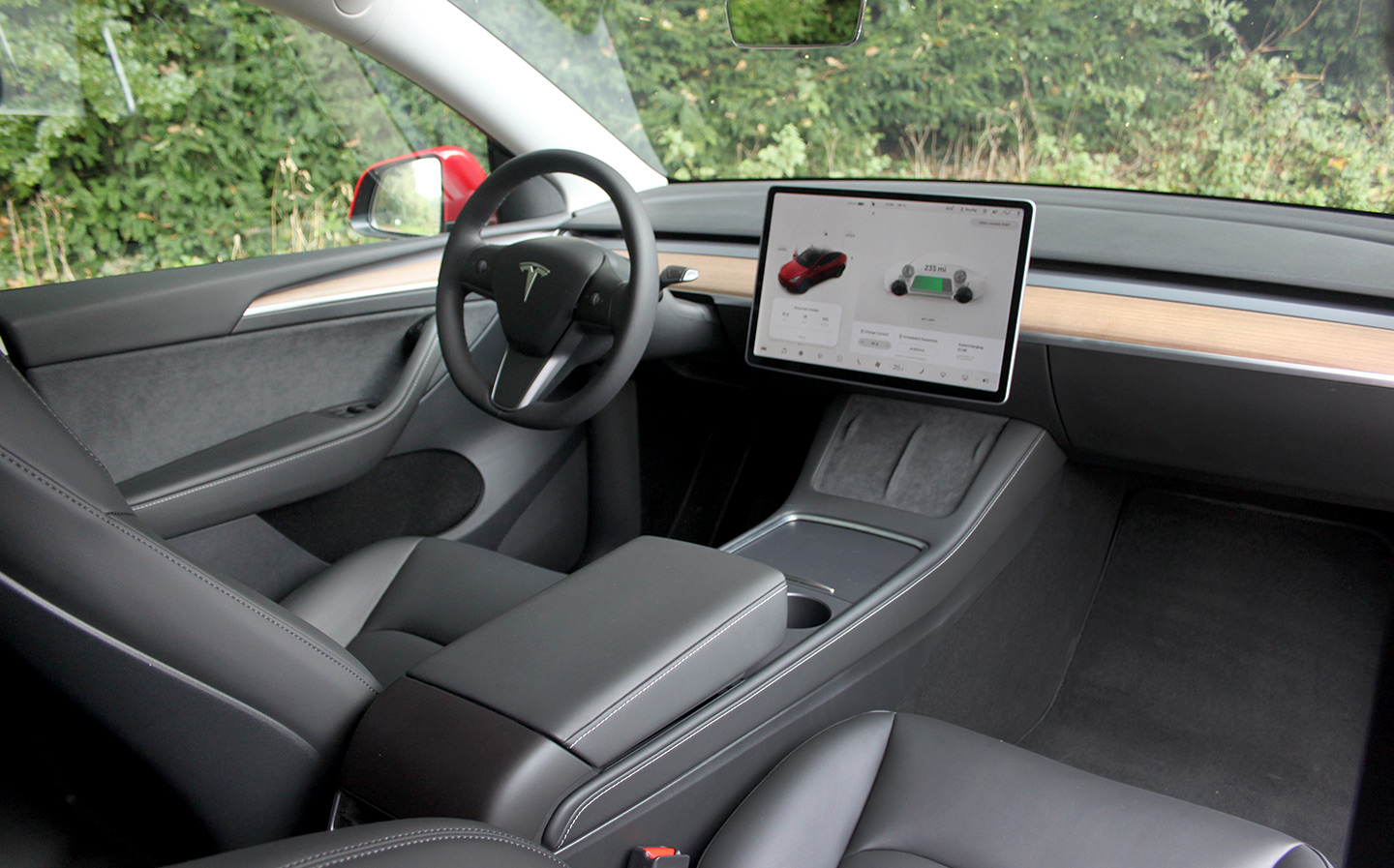 Interior: Spacious and Refined
Stepping inside the Tesla Model Y, one is greeted by a minimalist yet sophisticated interior. The focus is on clean lines and uncluttered surfaces, with the 15-inch touchscreen taking center stage. The seats are supportive and comfortable, providing ample legroom and headroom for all passengers. The rear seats fold flat, creating a generous 76 cubic feet of cargo space, making the Model Y a practical choice for families and those with active lifestyles.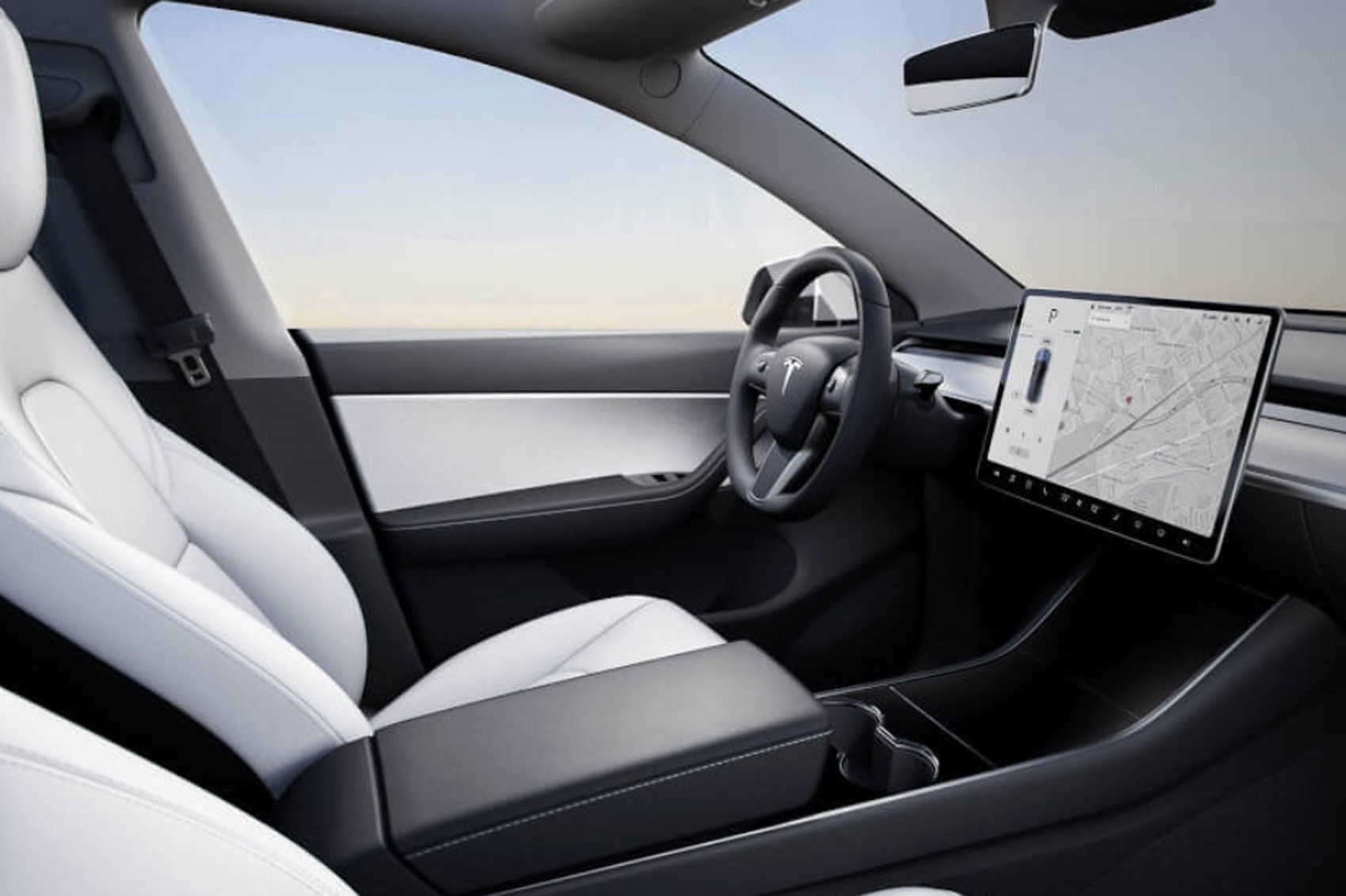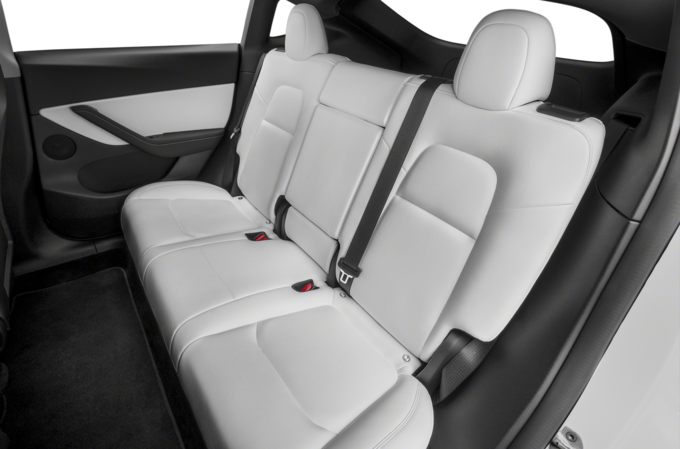 Comfort and Infotainment: A Luxurious Experience
The Tesla Model Y prioritizes comfort, with features like a panoramic glass roof that floods the cabin with natural light and heated and ventilated front seats for optimal temperature control. The advanced climate control system efficiently maintains the desired cabin temperature, ensuring a comfortable ride in any weather condition.
The Tesla Model Y's infotainment system is a highlight, powered by a powerful computer that delivers a seamless user experience. The 15-inch touchscreen serves as the command center, providing access to navigation, music streaming, web browsing, and a host of other features. Over-the-air software updates ensure that the Model Y's infotainment system remains cutting-edge.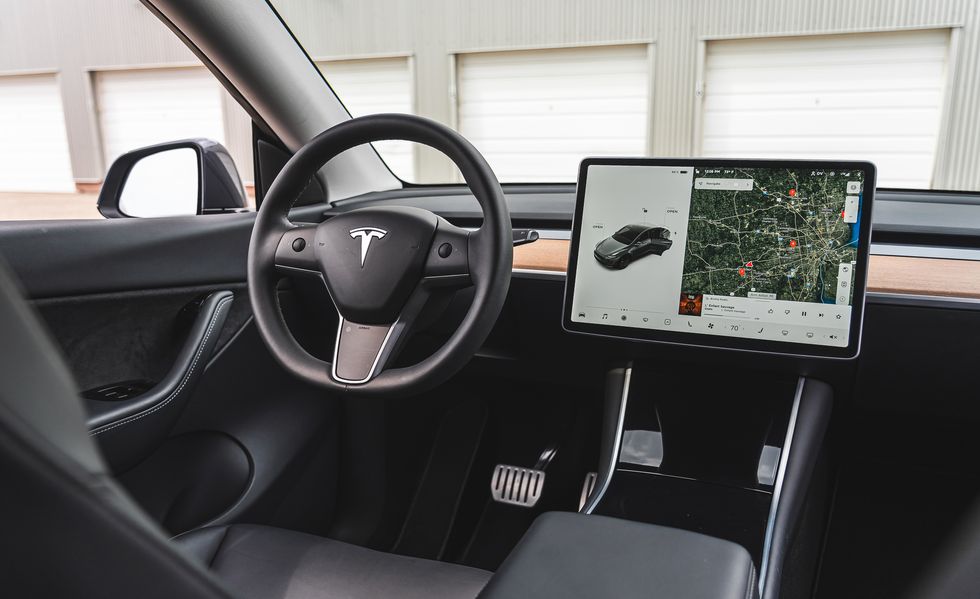 Cargo
The Tesla Model Y has a spacious cargo area with 34.3 cubic feet of space behind the rear seats and 68 cubic feet of space with the rear seats folded down. This makes it one of the most practical EVs on the market. The Model Y also has a front trunk that provides an additional 11.6 cubic feet of storage space.
Safety
The Tesla Model Y has earned a five-star safety rating from the National Highway Traffic Safety Administration (NHTSA) and the Insurance Institute for Highway Safety (IIHS). It is equipped with a suite of advanced safety features, including automatic emergency braking, lane departure warning, and forward collision warning.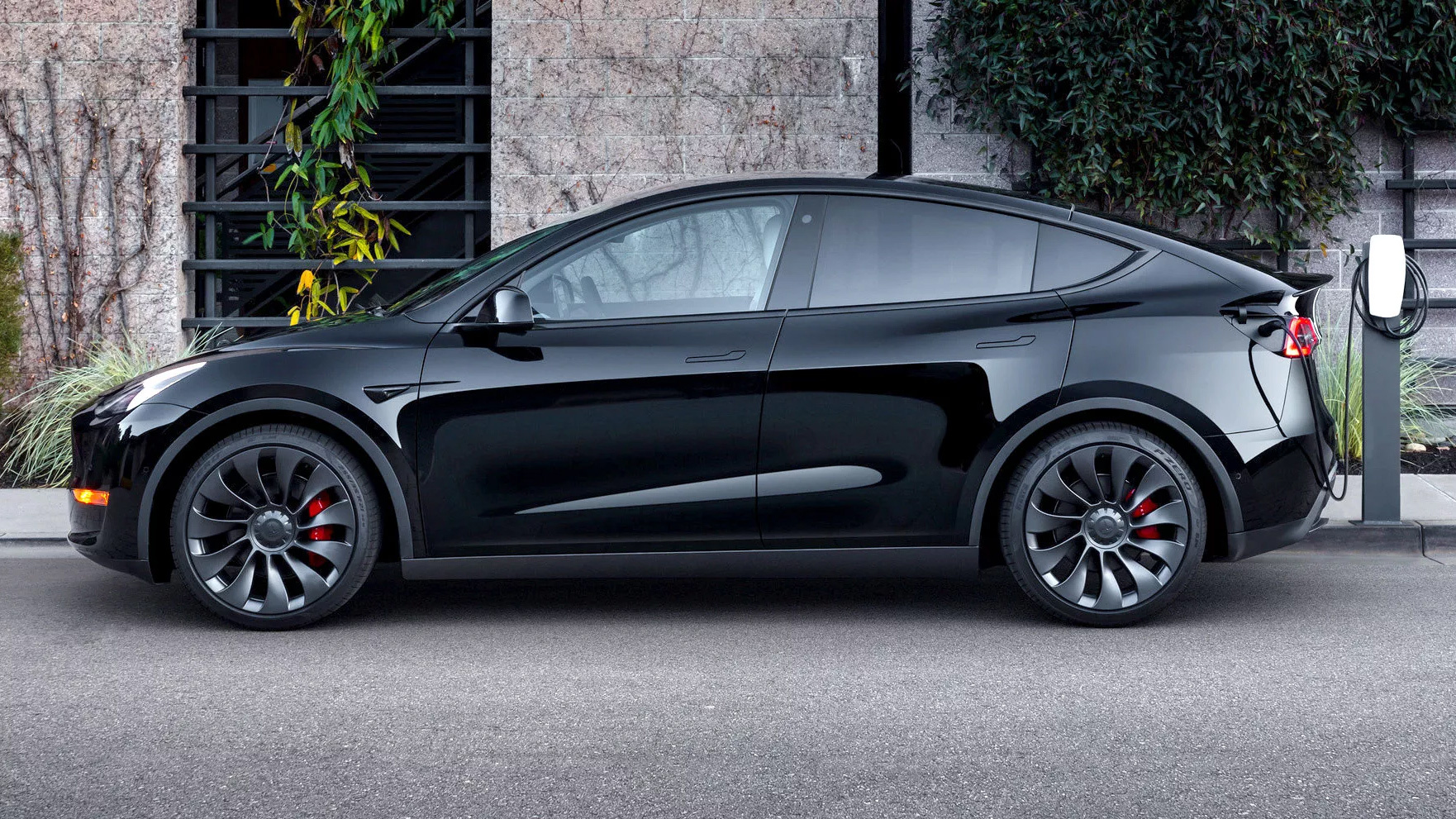 Driver-Assistance Features
The Tesla Model Y is available with Tesla's FSD suite, which offers a range of advanced driver-assistance features. These features include Autosteer, Navigate on Autopilot, and Summon, which provide a semi-autonomous driving experience.